Cyprus souvlakia (souvlaki)
Preparation time 1-2 hours
Cooking time 10 to 30 mins
Ingredients for souvlaki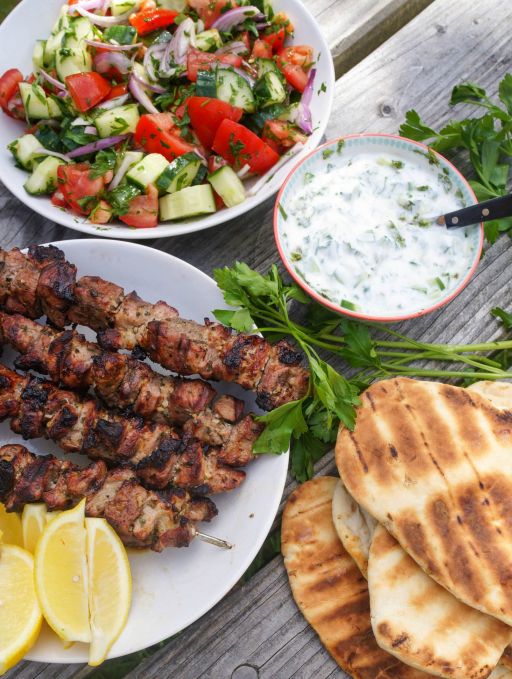 For the souvlakia (souvlaki)
- 1 kilo boneless pork or lamb (e.g. leg fillet or steaks)
- 1 tbsp coriander seeds
- 2 tsp rigani, or dried oregano
- 150 ml / 5 fl oz extra virgin olive oil
- 4 tbsp red wine vinegar
- 1 onion, grated
- 2 bay leaves, roughly torn
- salt and freshly ground black pepper
For the tzatziki
- 1/2 cucumber, peeled and finely diced
- 1 tbsp white or red wine vinegar
- salt and freshly ground black pepper
- 150g / 5oz thick Greek-style yoghurt
- 1 clove garlic, crushed
- 1 tbsp fresh mint, finely chopped
Method
1. Cut the pork or lamb into 2cm / 0.78in cubes, trimming off any gristle or other unwanted fat.
2. Mix all the remaining souvlakia ingredients and then pour over the meat.
3. Turn so that all the pieces are coated, then cover and leave to marinate for at least two hours, but preferably nearer to 24 hours, in a cool place.
4. To make the tzatziki, spread the cucumber dice out in a colander or sieve, and sprinkle over the vinegar and a little salt.
5. Leave to drain for one hour, then pat dry with kitchen paper or a clean tea towel.
6. Mix with the rest of the tzatziki ingredients, then taste and adjust seasoning. Serve either lightly chilled or at room temperature.
7. Back to the souvlakia. Soak wooden skewers in cold water for an hour or two, and then thread the meat on the skewers. Don't push the cubes right up against each other, but leave a minuscule gap between each pair, just enough space for the heat to curl round every cube, cooking it evenly.
8. Preheat either the barbecue or grill or an oiled griddle pan (place over a high heat for about 3-5 minutes), then cook the kebabs close to the heat, or on the griddle pan, turning and brushing occasionally with the leftover marinade, until they are crusty and brown.
9. Serve sizzling hot, with a wedge of lemon and the tzatziki.
Order services in Cyprus now