Hebrew translation and translators from Hebrew to English
We do translations worldwide.
Price and cost for Hebrew to English and from English to Hebrew translation
Some companies and sites offer price from
0.03 cents per word
.
For this price they do Google translation and Hebrew college students check the quality of the translation.
Some "translators from Hebrew" do not even inform you that they do automatic translation.
But when you try to order standard quality translation - they ask standard price -
20-50 USD/EUR/GBP per page with 250 words
.
We provide our customers best possible price for Hebrew-English translation and vice versa.

REQUEST A FREE QUOTE
Delivery of translation
.PDF file with Hebrew translation certified by our translation agency or .doc file.
Hardcopy (printed on paper), printout, paper copy of CERTIFIED Hebrew-English or English-Hebrew translation can be mailed to any place.
Our translations from and to Hebrew are accepted by any commercial companies, government offices or public organisations.
We also provide translated documents from Hebrew to English:
- to municipalities and Town Hall to get marriage,
- to schools and universities,
- to immigration services.
Estimated delivery of translation Hebrew-English
12-72 Hours
About translators from Hebrew to English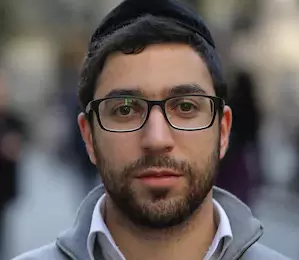 I can translate, format and proofread any document from Hebrew to English (and vise verse), professionally, economically and quickly.
I am a native English and Hebrew speaker, and my professional background includes a BA in language.
Since starting as a translator, in the last years I was responsible for translating in various fields, especially:
• Financial (Bills, Income Tax & Paychecks)
• Marketing Content (Social Media, Press Release, Advertising)
• Subtitles (Transcription, Captions, SRT files)
• Articles (Blogs, Writing, Web Content)
• Apps (User interface, Keywords & Content Description)
• Ads (Online/Video, Facebook or Google, etc)
• General docs/files/PDFs
My translation experience also includes translation of general documents, resumes, short books, articles, websites and more.
Please do not hesitate to contact me if you have any questions
Hebrew documents we translate to English
We translate any document issued in Israel and any document in Hebrew:
- Hebrew Driver's Licence
- Hebrew Marriage Certificate
- Hebrew ID card and passport
- Hebrew Birth Certificate
- Hebrew Address Confirmation
- Hebrew Death Certificate
- Hebrew Police Clearance
- Hebrew Degree Certificate
- Hebrew Diploma
- Hebrew Academic Transcript

Interesting facts about Hebrew language
1. Hebrew language is spoken in Israel by more than 9 million people, and the United States has the second largest Hebrew-speaking population.
2. Hebrew was originally a biblical language. Most scholars agree that the Bible was originally written in three languages: Hebrew, Aramaic, and Greek.
3. The Hebrew language does not have a verb that translates to "to be"; rather, in sentences that would use "to be" in English, there is no verb at all. For instance, אני פה ("I am here") consists of just two words: אני (I) and פה (here).
4. The Hebrew alphabet has no vowels. There are 22 letters in the Hebrew alphabet, and all of them are consonants.
5. There's no way of saying "I would like" (no politeness). Instead, you have to be direct, and say that you want something (using the verb רוצה, "rotseh").
6. Hebrew letters can change depending on their location in a word. Five Hebrew letters — צ ,פ ,נ ,מ and כ — have two forms. They appear as written previously when they occur in the beginning or middle of a word. However, the same letters are written as ץ ,ף ,ן ,ם and ך when they come at the end of a word.
7. Hebrew is written from right to left. Popular theory is that writing from right to left was easier for engravers when they were chiseling words onto stone tablets. These engravers would hold the hammer in their stronger hand (typically their right hand), making it easier to write from right to left.
8. The numbers used are exactly as in English, Arabic Numerals.
9. Hebrew is very close to Arabic – they are both Semitic languages. Although they have different scripts, they have parallel grammar systems and often similar words; for example, shalom in Hebrew is salam in Arabic (meaning both peace and hello).
10. Shalom Means More than Just Peace in Hebrew. Perhaps the best-known word in Hebrew today is shalom, which means peace. However, the word means much more than that. It can be used for both "hello" and "goodbye" and has other meanings as well. A slightly modified form, shalem, means "perfect" or "complete," since as long as there is no peace, no one is complete and no one may be content.
11. It could be difficult to learn the Hebrew alphabet, which contains 22 characters.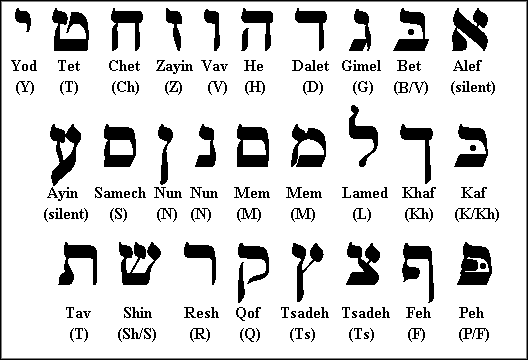 Hebrew alphabet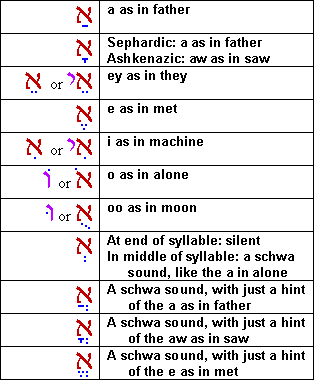 Hebrew nikud





Hebrew dagesh





Hebrew rashi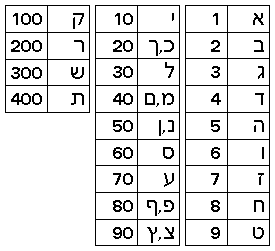 Hebrew numbers
Order translation now