in Russian
Cyprus certificate no winding up, no liquidation. Solvency Certificate or Certificate of non receiving order or non-bankruptcy order
Can I order via 24GLO.com non-bankruptcy certificate of the company, registered in Cyprus?
Yes, you can. Just contact us.
Which data should I provide to get no winding up Cyprus certificate?
You need to provide us with the name of the company and / or registration number.
Is it possible to find out whether the company is under voluntary liquidation in Cyprus?
If you wish to know is company in Cyprus under voluntary liquidation, it is necessary to check the Insolvency department of the Register of companies in Cyprus.
We can check if you have name or part of the name or number.
We can provide official certificate.
Examples and samples of Solvency Certificate or Certificate of non receiving order or non-bankruptcy order (from BANKRUPTCIES AND LIQUIDATIONS SECTION)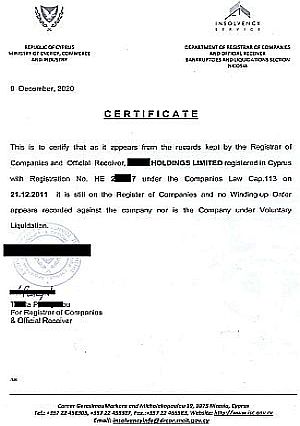 enlarge

Apostille on Cyprus Certificate of Solvency or non-bankruptcy


enlarge
What organization can issue non bankruptcy certificate
Only Cyprus government body can issue non bankruptcy certificate:
Ministry of Energy, Commerce and Industry
Registrar of Companies and Official Receiver
Insolvency Service / Bankruptcies and Liquidations Section.
Postal Address: Corner Gerasimou Markora & Michalakopoulou 19, 2nd Floor, Office 201, 1075 Nicosia, Cyprus.
Phone No: +357 22-458305, +357 22-466510
Fax No.: +357 22-466583
Website: www.isc.gov.cy
Email Address: insolvencyinfo@drcor.mcit.gov.cy
How much does cost non-bankruptcy Certificate of Cyprus company
Official non-bankruptcy Certificate from Registrar - not more than average market price, in euro per Certificate.

Terms of providing Solvency Certificate of Cyprus company
Certificate may be obtained in 1 working day.
Can individual (persons) receive non-bankruptcy Certificate in Cyprus?
Yes, non-bankruptcy Certificate can receive also individuals.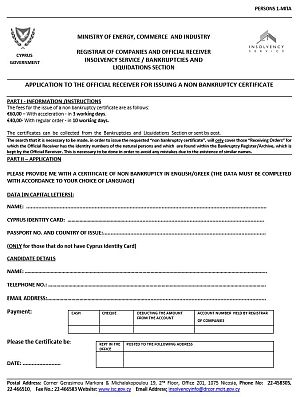 Application form for issuing a NON Bankruptcy certificate in .docx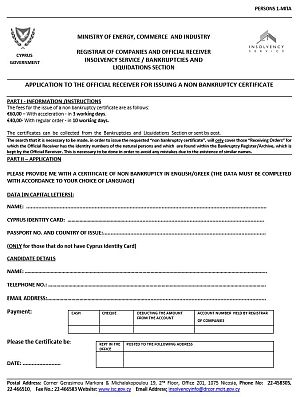 Application form for issuing a NON Bankruptcy certificate in .pdf
In this case we need only Cyprus ID or passport if you don't have Cyprus citizenship.
The search that it is necessary to be made, in order to issue the requested "non bankruptcy certificate", will only cover those "Receiving Orders" for which the Official Receiver has the identity numbers of the natural persons and which are found within the Bankruptcy Register/Archive, which is kept by the Official Receiver.
This is necessary to be done in order to avoid any mistakes due to the existence of similar names.
How I can receive documents ?
We will send documents to any point of the world by courier service or by Cyprus post registered mail.
What language can be issued non-bankruptcy Certificate of Cyprus company?
Certificates are issued in English or Greek.
Can I order non-bankruptcy Certificate online
Yes, just send us name or number of the company or scan copy of passport or ID.
Insolvency Service of Cyprus (ISC)
As provided in the Insolvency of Natural Persons (Personal Repayment Plans and Debt Relief Orders) Law 65(I)/2015, which was adopted on the 18th of April 2015 and enforced on the 7th of May 2015, the date of its publication in the Official Gazette of the Republic, the Insolvency Service of Cyprus (ISC) is the Official Receiver or any other department or service of the Ministry of Energy, Commerce and Industry (MECI). Following this, the Minister of Energy, Commerce and Industry has decided that the Bankruptcies and Liquidations Section shall undertake to perform beyond its current duties, the duties and activities of the Insolvency Service as well, as these derive by the laws of the Insolvency Regime.
The aim of the ISC is the effective, undisrupted and efficient implementation of the procedures set in the Insolvency Regime legislations, thus contributing in resolving economic difficulties faced by civilians and businesses. The ulterior aim is reducing non-performing loans, sustaining employment, encouraging economic activity and maintaining social cohesion.
Under the Legal and Regulatory Insolvency Regime the following are accomplished:
· The revival and second chance culture, as opposed to bankruptcy and liquidation.
· The enactment of a mechanism for the restructuring of corporate debts, with the aim of rescuing and restoring business activity and restructuring and sustaining viable corporations.
· The viability of natural and legal persons by offering them the tools to restructure their debts.
· Obtaining Court Orders for debtors that have no disposable income, nor any substantial assets to sell for the repayment of their debts, so that they are relieved from the aggregate of their unsecured debts up to the amount of €25.000. The same debt relief shall apply to all of their guarantors.
· A more favourable treatment of guarantors.
Τhe main responsibilities of the ISC are:
· The reengineering and modernization of its operation procedures, to enable it to successfully meet its duties.
· The effective management of Personal Repayment Plans (PRPs) for insolvent natural persons that may be restored to solvency.
· The effective management of debt relief from small debts for persons with no disposable income, nor any substantial assets via the Debt Relief Order.
· The effective execution of bankruptcy and liquidation orders.
Laws and Regulations of Insolvency Service of Cyprus
Legislation regarding appointment of examiner (examinership) - Unofficial translation in english of Companies (Amending) (No. 2) Law of 2015 - examinership
Company amendm 2 Law 2015 Examinership N62(I).pdf
European regulations
European regulation of Insolvency proceedings - Regulation (EE) 2015848.pdf
Bankruptcy forms - Proof of debt form and proxies
Creditors proof of dept form 30.docx
form 35 Special proxy.docx
form 34 General proxy.docx
Liquidation forms
Statement of Affairs Company.xlsx
Order other certificates of companies in Cyprus
Can you translate the certificates ?
Yes, we can.

Can you make Apostille on non-bankruptcy Certificate?
Yes, we can.

Order services in Cyprus now