About Service - Delivery flowers in Cyprus
Flowers delivery service in Cyprus was established in 2013. Today, our network covers all the cities and villages of Cyprus. Among our clients are people from many countries of the world and their number is constantly growing.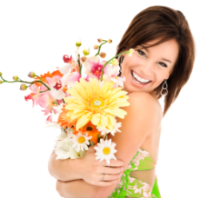 Surprise your loved ones
How to order the flowers
We have made sending bouquets, flowers and gifts as convenient as possible. Orders are accepted on our web site, chat in Skype, via e-mail or by phone: +357 96 38-39-40. We accept payment in various ways.
Our company operates 24 hours a day, 7 days a week, 366 days a year (the interruption does not happen).
Where do we deliver flowers and gifts
We deliver flowers to all corners of Cyprus, to any hotels, to airport Larnaca and Paphos, to companies etc.
We will never tell you "no", and be sure to find an opportunity to deliver flowers even on the highest point in Cyprus - Mount Olympos.
Our range consists of flowers, sweets, gifts.
Our range - not only the bouquets and floral arrangements, and gifts for every taste. We offer a choice of many types of flowers and bouquets. We do our best to you both classic bouquets and floral decoration of interiors for celebrations and weddings.
What we do
We are pleased to meet any your orders from one flower delivery to hundreds of bouquets. Our clients are not only individuals, but also many small and large companies.
Book with us safe
We guarantee full confidentiality of the information about your orders, and the safety of your online payments.
By contacting to our company, you can be assured of absolute safety and privacy, as we have done everything necessary for that.
You'll see when we flowers are delivered
We will give you an SMS immediately after delivery. You will find that the bouquet is delivered and will be able to congratulate immediately after presenting a bouquet or gift.
We are the best in Cyprus
We are the first and only company in Cyprus which offers delivery of flowers and gifts to any place at any time.