Courier Service of Cyprus. Couriers. Delivery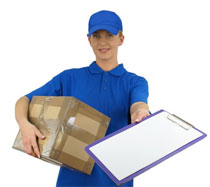 How and where I can send documents from Cyprus and to Cyprus ?
Documents can be sent to and from anywhere in the world.
You can choose any carrier.
Shipping cost depends on the speed.
Courier can come to your home or office and pick up a package or parcel.
If you need to send documents in Cyprus - use our car, for example from Limassol to Nicosia 50 euros for 1 hour, from Paphos to Nicosia 75 euros by car 2 hours.
Or you can use local Couriers - price 2-3 euro in 1 business day
In Nicosia document delivery - free of charge.
If you need to send documents to or from France , UK, Germany , Italy, USA , Canada, Russia, Ukraine , Moldova, Kazakhstan , Belarus, Uzbekistan and other countries:
price 45-55 euros in 3 working days
30 euros in 7 days,
5 euros in 30 days.
How to track the delivery of documents
The courier will arrive to your address, take the package, will issue a receipt to track the location according to tracking number.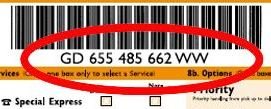 Courier can pick up the documents in Cyprus and from Germany, France, England, Russia, Ukraine, India, Shri-Lanka or from any other country.
Can I order delivery through 24GLO.com ?
Yes, you can. Just
contact
us.
---
---
---
---
---
---
List of Cyprus Couriers :
---
TRAVEL EXPRESS

1.70 EUR for sending envelope throughout Cyprus.
http://www.travelexpress.com.cy , phone: +357 7777 7474 , Nicosia +357 22 757878
---
AKIS EXPRESS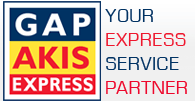 2.42 EUR for sending envelope throughout Cyprus.
www.gapakisexpress.com , phone: 7777 1777
Also can be sent outside Cyprus.
---
ACS Courier

ACS Courier
2.70 EUR for sending envelope throughout Cyprus.
https://cyp.acscourier.net , +357 7777 7373
DESCRIPTION: ACS Courier (Cyprus) is one of the leading courier companies on the island providing outstanding services at the best possible price to thousands of Cypriot companies and individuals. ACS Courier (Cyprus) is a related Company of ACS Courier (Greece) the preferred and most respected private courier Company in the country.
---
DHL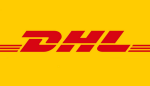 http://www.dhl.com - delivery time of 3 working days.
DHL is present in over 220 countries and territories across the globe, making it the most international company in the world. With a workforce exceeding 285,000 employees, we provide solutions for an almost infinite number of logistics needs.
DHL is part of the world's leading postal and logistics Group, Deutsche Post DHL and encompasses three divisions: DHL Express, DHL Global Forwarding, Freight and DHL Supply Chain.
---
FedEx

http://www.fedex.com/cy/
FedEx provides access to a growing global marketplace through a network of supply chain, transportation, business and related information services.
---
Cyprus Postal Service

http://www.mcw.gov.cy/mcw/postal/dps.nsf/index_en/index_en - The cheapest, but delivery time up to 40 days.
Cyprus Post, given the range of the postal network across Cyprus and the contact points with the public both in urban and rural areas, offers outside the established postal services and other services to the public on behalf of other government departments.
---
OTHER COURIERS in CYPRUS
UPS
http://www.ups.com
UPS international network offers time-definite delivery options to more than 200 countries and territories.
---
TNT Cyprus
http://www.tnt.com
TNT is aware that fraudsters use TNT's identity on websites and email messages to mislead internet shoppers. We advise all customers to beware of such requests for advance on-line payments. If you are in any doubt as to the authenticity of any message, please read for more information about this subject.
---
Columbia Movers
http://www.columbiamovers.com.cy
Columbia Movers will ensure that your move, no matter how big, or small, will be the experience you expect from a company that is personal, professional and proficient at all times.
---
Shoham (Cyprus) Ltd
http://www.shoham.com.cy
Established in Famagusta in 1951, SHOHAM (CYPRUS) LTD is one of the main liner and tramp shipping agents in Cyprus. With our vast experience in every aspect of ship agency and cargo handling activity we serve with dedication the import, export and transhipment trade of Cyprus.
---
Samson Logistics Ltd
http://www.samsonlogistics.com
Samson Logistics Ltd is a dynamic Cypriot based International Freight Forwarding Company. Established in 1984 by a group of well-trained, experienced, target and result oriented individuals. The company has a "hands-on" management and consulting team. The company current employs almost 30 well trained and experienced individuals, united as a team with a strong virtue of professionalism, who constructively respond to clients' requirements. Samson is a private own company run by a partnership.
---
Panaleco Frieght
http://www.panaleco.com
PANALECO Freight & Trade Ltd started operation as a Freight Forwarding company in 1996. It's Founder Mr. Panicos Papamichael who is presently the Managing Director of the company is in the Shipping business for the last 28 years and is surrounded by a team of both experienced and young people so that the best of service can be supplied to customers and to affiliated Abroad Agents.
---
Mavroudis
http://www.mavroudis.com.cy
Our strategy focuses on offering a comprehensive range of integrated services and our emphasis is on efficiency. We are committed to the principle of on time delivery every time. We take care of all the details of your shipping transactions – precisely. On the web page we have colour-coded the entire range of our services for your convenience and information. The scope of our supporting activities includes packing, storage, handling, monitoring as well as issuing cargo insurance. These services are rendered under MAVROUDIS Global Transportation and Logistics Ltd.
---
Inter Frieght Logistic
http://www.interfreightlogistics.com
Interfreight is a new age logistics operator headquartered in Limassol/Cyprus. Our Company lies at the epitome of evolution in the international transport arena. To this end we have expended considerable time and effort to combine experienced personnel with intelligent technology. The result lies in our unparalelled level of service.
---
Cyprus Global Logistic
http://www.cyprusgloballogistics.com
We are an international logistics provider based in the city of Limassol in Cyprus offering the entire range of freight forwarding & logistics services to our customers and agents for international and worldwide operations.
---
Christoudias Logistic
http://www.christoudias.com
A full service shipping and logistics company in Cyprus with services including warehousing, distribution, customs brokerage, and procurement.
---
Andreas Orthodoxou
http://www.aorthodoxou.com
The Company is under the personal Management of the founder, Mr. Andreas Orthodoxou, who has 35 years experience in Shipping matters. He started his career as Customs Clearing Agent and then he specialized in Shipping and Forwarding.
---
Genesis Logistic
http://www.genesiscyprus.com
As founders, being in the freight forwarding industry since the early 80's, we pride ourselves in being innovative by providing transportation solutions that satisfy fully our customer's needs. In our aim to become a "One Stop Shop" for our clients and partners, Genesis Logistics has been focusing in all those areas of the transportation chain, which enable us to ensure speed, reliability and cost efficiency.
---
Aramex
http://www.aramex.com
Aramex provides a global solution for moving time-sensitive documents and parcels around the world, door-to-door, within committed transit times that meet your needs and expectations.
Order services in Cyprus now