Cyprus Post Philatelic Center and Postal Museum.
---
---
---
---
---
---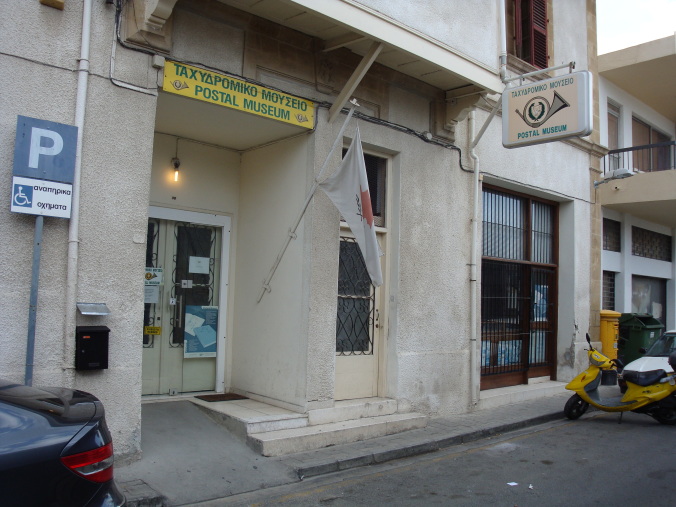 Cyprus Postal Museum outside
The Postal Museum is located in Nicosia «within the walls» and housed on the ground floor of an old two-storey mansion near the Laiki Yitonia area and close to the historical churches of Trypiotis and Agios Savvas.
The Museum was founded in 1981 to house the rich and diverse material of the Cyprus Post related to the long postal history of the island, starting from the 15th century, during the Venetian period, when postal communications from and to Cyprus were organized for the first time.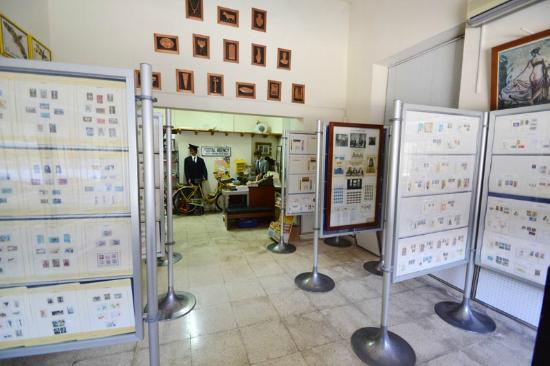 Cyprus Postal Museum in Nicosia
The halls of the Museum exhibit chronologically the postage stamps and rich philatelic material concerning the postal history of Cyprus. The main hall houses material related to the period of the British Rule in Cyprus. Here you can admire, for example, the oldest series of Cypriot stamps with the portrait of Queen Victoria of England which are overprinted with the word CYPRUS, as well as the first beautiful purely Cypriot series of 1928 depicting historic sites and figures related to the centuries-long history of Cyprus.

Cyprus Postal Museum exhibits
The other halls of the Museum house first day of issue envelopes and stamps issued since the proclamation of the Republic of Cyprus in 1960 until today. Through the stamps, albums and other relevant material exhibited in the Museum, one can study the historical adventures of the island, the great figures of the history of Cyprus, the culture, the touristic sights, the monuments of Cyprus, as well as the island's contribution to civilization.

Cyprus Postal Museum inside
The Museum also exhibits stamp specimens, air letters, insured mail envelopes, newspaper and magazine wrappers and prepaid response postcards.

Cyprus Postal Museum stamps
The huge variety of rural postmarks exhibited and covering the whole postal history of the island is remarkable. Special seals for insured letters, postmarks of urban post offices, postmarks of English military camps as well as slogans are also exhibited. The visitor of the Museum can furthermore see how a letter or a postbag was insured in the past (initially with sealing-wax and later with machines) as well as different kinds of weighing scales and other philatelic books and magazines.

Cyprus Postal Museum stamps machine
The person operating the museum is always willing to guide you in the Museum and give answers to all relevant questions you have while trying to get acquainted with the Cyprus postage stamps and the rich postal history of the island.
Visit the Postal Museum in Nicosia to enrich your knowledge and learn at first hand, through the stamps, about the history of our island Cyprus.
Its is worth visiting the Postal Museum because, as a pupil visitor writes in a note «it is the only museum where I did not feel bored»
Address
Agiou Savva 3b Street
Nicosia, CY- 1015
Tel: 22 304 711, 22 760 522
Fax: 22 760 733
Opening Hours
Monday – Friday 09.00 – 15.00
Saturdays 09.00 – 13.00
Tickets price
Free
Cyprus Post Philately
http://www.mcw.gov.cy/mcw/dps/dps.nsf/catalogue_en/catalogue_en?opendocument
Order services in Cyprus now